I'd like you to meet someone.
He's a friend and a hero of this world, amongst untold others. He is championing the oddly undervalued cause of repeating vital yet completely boring messages.  Over and over and over…….
I'll let the picture introduce him as excessive words may not do him justice…

Now that Windows XP is no longer supported by Microsoft it really REALLY,  well and truly is time to upgrade XP to Windows 7 or 8.  Thankfully Captain Hyperbole is here to help me,  GMan the PC Man,  spread this boring and dreary message !
"Why is this important??? " Captain Hyperbole hears you ask??
Well, he's outrageously honoured and morally obliged to answer you,  the PC using general populace, and with as much fuss and pomp as possible….
Uttered from the Captain's very lips (if he indeed possesses such) –
"My People!   Listen UP with ALL of your ears…
Since MIGHTY Microsoft  stopped updating old faithful Windows XP with regular security patches WAY back in April , much beloved XP has COMPLETELY and UTTERLY become a 'training and proving ground' for DIABOLICAL hackers to discover new ways to hack, and SIMPLY INCREDIBLE Microsoft will do nothing to fix these HORRIBLE and NASTY new security vulnerabilities in BELOVED XP going forward.  Hoor-ra!"
Further words of wisdom from El Capitano….
"The risk of exploit or compromise of your dear DEAR Windows XP system will increase over time,  across time,  and beyond the boundaries of time itself!
Windows XP defensibility will deteriorate INCREDIBLY RAPIDLY over the next few months as MORALLY BANKRUPT attackers will find ways to exploit certain KEY aspects of the operating system, internet browser, mail programs, office software (LOYAL foot soldier Office 2003 is also at end of life….sob!), and! Oh my goodness me golly gosh! Even third-party programs such your TRUSTY PDF reader will be at EXTREME risk

So, to ignore the DIRE warnings and continue to use Windows XP is to do so at your own UTMOST peril.  Ha! and Tally Ho!"
Don't yet believe The Captain?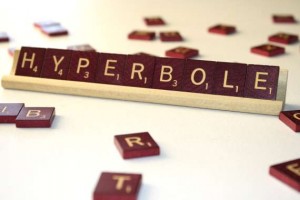 Here's some other (lesser) and mere mortal's opinions that might be
worth reading, particularly if the had been uttered by you know who….
If you do now decide to go ahead and upgrade , the amazing Captain Hyperbole will ensure GMan the PC Man will FAITHFULLY and DILIGENTLY upgrade XP for you, back up all your PRECIOUS IRREPLACEABLE data and re-install all your BELOVED old software, advising on any SAD BUT TRUE software incompatibilities with Windows 7 or 8 as we go.
Might also be a good time for a YOU BEAUT hardware upgrade too.  Woo Hoo!
Contact
 the MAGNIFICENT

GMan the PC Man!

Apologies for shamelessly plagiarising my own very last post……..